We were off to the West End again this week - it was a birthday treat for DD - to see the new production of 'Miss Saigon' - again! (well, we went to see it when it re-opened here in London in May - it was for MY birthday treat that time! ;-p) The cold and wet weather was not enough to dampen our spirits, even if we did require umbrellas! (.....Autumn seems to have arrived suddenly, out of the blue!)
....just one more shot....
At the risk of being a musical-theatre-bore I have to say this production is truly stunning!! (...and after the dozen or more times we've seen it, it just keeps on getting better!)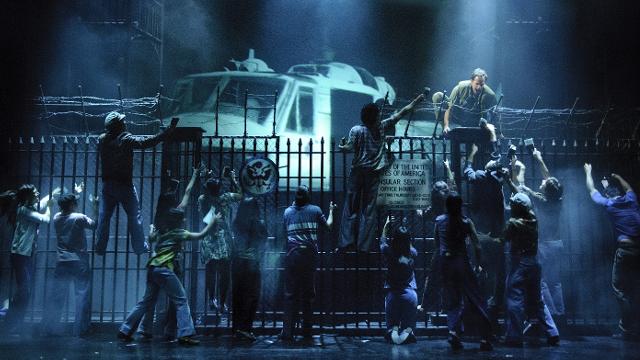 .....and the helicopter's back, of course!
If you are in the UK I'd highly recommend you invest some of your hard-earned £££s in a ticket; worldwide readers - bombard Cameron MacIntosh and his production team with emails until they agree to take the show back out on the road!
If you haven't already seen it - here's a clip!
(and if you HAVE - well, just ENJOY!!!)