One of the best things about blogging is that every now and then you come across people who you will probably never meet face to face, but with whom you have an instant rapport. One such, in my case, is the extremely talented writer, Cathy Olliffe-Webster.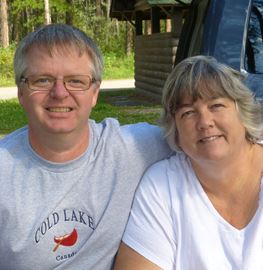 (the delightful Cathy, with husband Dave)
We met through a love of writing and now she has published not one but two books! So here I am to 'bang the drum' for her in promoting her work and......
......oh, here's the lady herself:
I wouldn't know Sue Harding if it wasn't for #FridayFlash. I wouldn't know that she has a brand new kitchen almost ready for bangers and mash. I wouldn't know she is an absolute knitting fiend who, if she had a dollar for every ball of wool she has stashed in her cubby, could afford to buy Buckingham Palace.
Or at least the services of one of those taciturn but extremely handsome fur-hatted guards at the palace gate. I myself would skip the palace and opt for four or five of those guards. Ménage a cinq, anyone?
But I digress. The fact is, I wouldn't have any idea who Mizz Harding was, I wouldn't be a writer and I wouldn't be the author of two (count 'em) books if it wasn't for #FridayFlash. I would, however, be a sad and lonely homeless person laying on a subway grate, sluicing down a bottle of cheap plonk and peeing on storefronts. That is the amazing way #FridayFlash changed my life.
You may be wondering what it is, this marvelous life-changing thing. It's an Internet meme, actually, the brainchild of American writer/poet Jon M. Strother who, back in 2009, wanted to create something that would encourage, support and showcase short fiction from writers around the world. The writers wrote a story of 1,000 words or less, they posted it on their blogs and tweeted it with the hash tag (that's the # thing-a-ma-bob on Twitter). Then they ran about reading and commenting on all the other writers' stories. A bloggy friend named CJ Hodges MacFarlane introduced me to the phenomenon and I took to it like toddler-pee to swimming pool water. The absolute rush of having other people read my work was stunning and I quickly picked up on a lot of writing know-how.
Basically I was a #FridayFlash addict. I wrote a story every Thursday night for more than a year. On my honeymoon. The night before my wedding. I wrote when I was sick and I wrote when I was run off my feet. I became part of a community and meeting people like Sue was as good or better than the writing itself.
Eventually my attention turned to writing a novel, Green Eggs & Weezie, an all-consuming
voyage that put Flash on the back-burner. But I never forgot the stories that made Fridays magical, and eventually I chose my favourites and created an anthology called Friday Girls. Why girls? Well, there are some stories featuring men, but mostly my stories are about "girls" of all ages, of all backgrounds, but all with the same insecurities and foibles that mark my own life.
When it came time to give the collection a title, Friday Girls seemed perfect. In my mind, Friday girls are tough when they need to be, with big hearts and even bigger dreams, and they launch into the weekends of their lives with fearless abandon.
The book is one of the best things about being involved with #FridayFlash – next to getting to know Sue Harding, of course.
Starting tomorrow, Friday Girls will be available for free, for five days, on Amazon. Here's some links:
If you read Friday Girls or Green Eggs & Weezie, and you like them (!), please tell your friends and leave a review on Goodreads or Amazon. If you don't like them, take your dear old mother's advice: "If you don't have anything nice to say, come sit by me."
-oOo-
You can catch up with Cathy over at her blog- 'Cold Lake Cathy' -
Cold Lake, Alberta, being the place her and Dave have recently relocated to. I don't take it personally that she decided to move several states away
just
at the time when I announced I was coming over from the UK to visit cousins in New England and we might even take a run up to Toronto and be within striking distance of meeting Cathy and Dave from their their home on the Muskoka River, Ontario! There's friendship for you!! ;-p
(...and what happened to my #fridayflash stories? Well, a lot of them are just over to your right, in the sidebar, if you fancy trying them out for size! Maybe I shall have to think about following Cathy's lead and publishing them myself....... ;-p)